We recently carried out a data project on one of our existing customers that has a client database consisting of 300,000 records. The basic premise of the project was to determine how much it would cost the client to send out an direct mail campaign to its entire customer database.
Then, if it took the same amount of customer data, ran it through a data cleansing and data suppression process to remove people that are non-contactable or who shouldn't be contacted, how much saving would that provide?
As your customer database grows, the information held can become distorted and duplicated. Data cleansing and data suppression removes, adds or amends the details within your database to ensure the data is accurate and up-to-date to maximise response rates.
Removal of names and associated personal details of customers that have requested not to receive marketing communications, have registered with preference services or are known to have moved or passed away is an essential part of cleaning your data. These suppression files are refreshed on either a weekly or monthly basis in order to keep the data up to date.
After running 300,000 customer database records through a data cleansing and data suppression process, we found 7,200 duplicates and 4,200 suppressions, providing a saving of £9,000 from non-deliverable mail.
These savings from the non-deliverables highlights the importance of performing a thorough data cleansing and data suppression service.
The things to consider when cleansing your emailing database include:
The Mailing Preference Service

- Held by the Direct Marketing Association, the Mailing Preference Service allows an individual to register on a mail suppression service; once signed up, there should be no contact from a company without explicit permission.

The Bereavement Register

– This is a list of people that have passed away, enabling a company to match contact details to ensure it does not send information to the deceased and cause further upset to family members.

The Postcode Address File

- Created and held by the Royal Mail, this cross-references customer address information, making corrections and adding extra information where the record is incorrect or incomplete. Depending on the quality of the match and the enhancement level, you will be able to determine whether an address is poor in quality and can't be enhanced or validated and so wouldn't send any mail because it is very unlikely that it will be delivered.
These processes can take approximately 48 hours from receiving the files and identifying ones that would be suitable for mailing. Carrying out these processes helps prevent data decay, ensuring the reliability of data and allows the true value of unique customers to be revealed.
It is vital to keep on top of a customer database to ensure that money is not wasted on sending mail to the wrong people or places due to inaccurate data.
Please see below our infographic, which illustrates the recent data project we did and the results: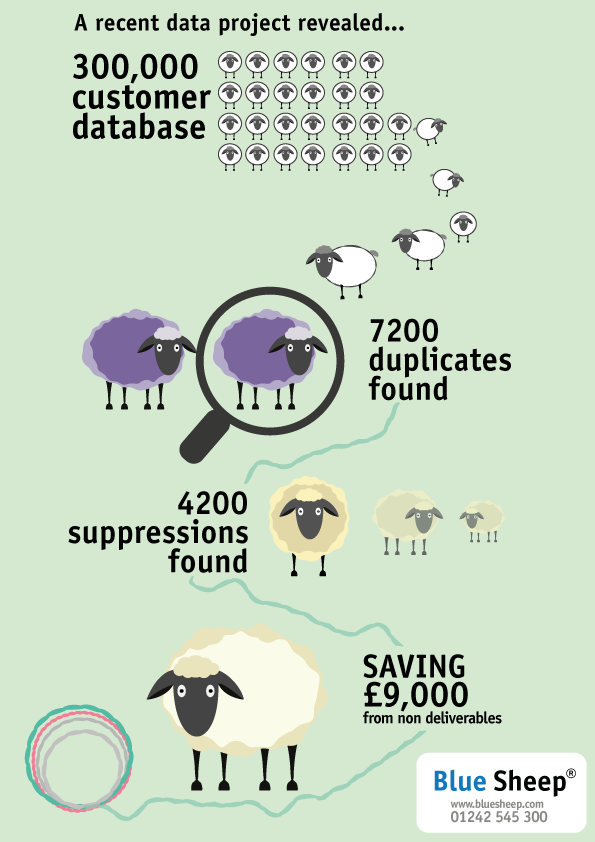 In addition, to find out more about how you can exploit the benefits of big data, click here to download our eBook: